Discussion Starter
•
#1
•
This year I am doing an Alien Invasion. So far, I have built three cryo-chambers. My first a a roaring failure. After a redesign I came out with a prototype that makes me happy.
For my prototype I used wood I had on hand. The frame was made out of 2x2 and 1x2. It is 6 feet tall and 2 feet wide. Upon standing it up I noticed that the sides really needed filling in.
So I added 2 2x4's and covered it with drywall compound to fill in the gap.
I then painted it latex paint before spray painting the sides bottoms with gloss black. The back door was painted with gloss silver.
The top and bottom were covered using FRP. Starting to look good. BUT, like I said this design was a failure. When I tried to bend the plexiglass I broke it. Tryed again, this time heating it with a heat gun and halfway through, broke it again!! That was when I realized I needed to do something better.
So took all apart and redid it. It was much easier to bend the plexiglass this way.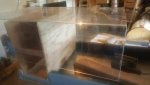 It is starting to look better. But like I said this is a prototype.
Finally finished all three. Well, almost. Still have to add the lighting and pipes for the fogger. Then I realized, CRAP!!! the chambers were too small for the foam filled aliens I wanted to put in them.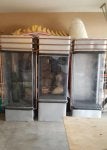 THe middle one has a shorter chamber because this was one of the plexiglass peices that I broke. I cut off the broken edge and formed it. I liked how it looked and moved forward with that design.
Now I am working on the UFO. There is a post here by I-Zombie who built a monster sized ufo. I am working on that now. WIll post pictures when as I get going. I am cutting it down a bit since my yard out here in AZ is a bit smaller.