Discussion Starter
•
#1
•
My neighbor went all out on his costume in 2014 and created a UFO that he could walk around town in. It was about 10 foot in diameter and looked really awesome. He inspired me to expand on that idea and do a full Alien Invasion theme! We decided to make two alien species, green & grey. For the UFO we used two patio umbrellas, lots of silver paint and some LED's for the edges.
Our neighbors let us put some of the aliens on their yards as well, making the whole street look like an invasion. All the neighbors dressed up as different aliens (I went as the Predator and scared lots of kids & adults!). We even built an examination tent at the end of the street with an alien body and green blood everywhere.
Questions & comments are always welcome!
Can't wait for this year!!
Hope you enjoy! (more pics in my gallery)
Two umbrellas from Amazon came to about $70. Cut the poles & attached them with a PVC sleeve.
I used zip-ties on the ends to close the seam.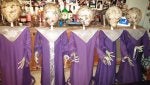 Grey aliens hanging out at my basement bar... (they still need paint)
Bodies prepped for the green aliens.
Painting the UFO...
Almost done!
Green aliens after paper mache and some paint.
Grey aliens hanging out in the yard.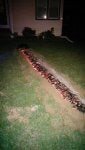 Burn path for the UFO. I didn't dig up my yard, just put down a long black tarp, put the prop down and added some dirt.
UFO put in place!
Don't drink and fly...
Canopy broken (I put an alien head here, but wanted to show the insides)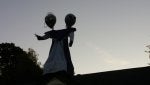 Grey alien leader. One head had a clear dome showing his green alien brain, the other head turned back and forth (using an oscillating fan motor). I ran a hose up to them to have fog come out from inside.
More of the leader...
Hiding green alien.
Alien & space craft at my neighbor's house.
Front of the house.
Bottom of UFO. Used 2 liter bottles for the "thrusters" and a fog machine hooked up behind it to feed fog from the inside of the UFO.
All lit up!
Grey alien at night.