Discussion Starter
•
#1
•
This prop is one of several for my AREA 51 front yard this year. The idea being a UFO crashed into my front yard and now their trying to "phone home".
I completely recycled this prop, not purchasing a thing. It's made from a couple large foam packaging pieces, assorted treasures from the street as a run, old paint, some mini LED strings I had sitting around, and a under-counter water heater I found. Add some hot glue and some love for prop building and voila! Enjoy!
Here's the phone pre-paint.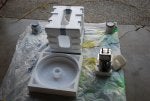 My water heater in the prop lab(ie. kitchen table).
Adding all the random treasures I find while out running.
Final shot. Red Rope LIghts from the Christmas bin extend up and over my roof to a small alien antenna(not shown).
Here's a short video of it in action. The green light within the box flickers, courtesy of a F7 starter, fuse, and green bulb.
In the tutorial section, we built a full-size crashed UFO on the lawn, from scratch:
http://www.halloweenforum.com/tutorials-step-step/119831-how-build-ufo.html
Happy Haunting!