Love the ingenuity of using a glove. If I wasn't told what it was before hand (no pun), I would have thought it was a bought heart.
I have a Davey Jones heart setup as well, but I couldn't do the beating heart trick with my heart. Had to settle for led light outside under the lid.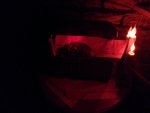 Would love to see yours in action.