Discussion Starter
•
#1
•
So I stood in line at Michael's for at least 20 minutes this past weekend with a bunch of people buying Christmas stuff and I wondered to myself "I wonder what these people would do if they knew I was here to buy supplies for next year's Halloween and I don't care about the Xmas stuff...."
Anyways, I have been working on 2 projects that collided. We have a tree in our front yard that would be perfect for some of these hanging mason jar lamps that I keep seeing and so I have been doing some experiments with them lately. On a completely unrelated path ( for the past several years!) I have been pursuing options for fake Spanish moss for the same tree. These projects collided today and I thought the result was cool. The hanging mason jar "swamp lamp" is nothing new and you can find a bazillion examples on how to do these on the web. I used Pebeo 160 paint to create an amber color. The light is an LED "flame" lamp that you can get from multiple places on Amazon. What is new is creating the "swamp" look by using the same thread and netting that is used to create Ghillie Suits for hunters and snipers. If you have no idea what a Ghillie suit is then here is an informative and humorous video that will show you what one looks like:
https://www.youtube.com/watch?v=y8C4F4xZzgQ
You can buy Ghillie suit thread on Amazon. It comes in 1/2 lb bundles and each bundle is about $10. The thread is nylon and comes in 18" pieces and you tie it to nylon netting with 1" squares. The thread comes in many colors and some are pre-mixed like the Mossy Blend and Woodland blend shown here. A piece of the netting is next to these bundles.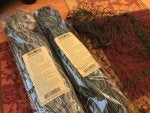 First thing you need to do is separate the big bundles into small "bundlettes" of about 20 threads. The smaller the bundles the easier it is to tie the knots. The bigger the bundles the more dense your "canvas" will be. If you can get someone to help you where one person divides the little bundlettes and one person ties the knots it will go MUCH faster.
I use simple knots - the same kind you start with when tying your shoes. I created a checkerboard type pattern when tying the knots as shown here where you skip one row/column each time.
Here is a big section that I was doing to look like fake moss. Hanging it from a light helps immensely in keeping it at the right working height and providing lots of light. Disregard the collection of wine bottles in the background - it was close to Thanksgiving and we had family coming over.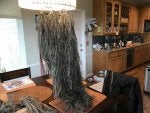 I digress. Here is a small piece of the netting and thread simply zip-tied to a mason jar lamp. I hot-glued some additional thread to the bottom.
Finished product:
and here is Kirby. He's a doodle.
And a video: