·
They call me HeebieJeebie
Discussion Starter
·
#1
·
I was out puttering around in the cemetery yesterday afternoon when the neighbor from across the street came over carrying a huge box. He said he happened to notice I have a few decorations out (HA! I was just wondering where to put all my skeletons!) and said he had this ghoul that has been in their garage for a couple years. Their son is grown and moved out and they don't decorate anymore, so he asked if I wanted it. He wasn't sure if it even worked and is a tiny bit dirty but I could have it if I wanted it. If not, he was tossing it.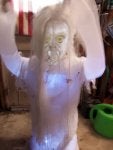 Of course I took it. She doesn't rise up, but I also haven't messed with it to see why not. But she screams & slights up & wildly waves her arms around.

Is there anyone in SE Michigan that wants her?? She's not anything that I would ever use in my display. I would happily meet you halfway!