I decided to post a thread of my progress pictures this year! I had so much fun last year with my 2018 "Voodoo Island Hulaween" theme, but I did not post pictures as I went along here on HF. I did post some pictures and lots of video on Facebook and here is the link to that public album:
Log in to Facebook | Facebook
Here's a link to the HF album which is an out-of-order-jumbled mess!
But on this HF thread, I do plan to document a lot more of my actual prop building and progress pictures, as this is a completely new theme for me and I'll be adding so many new things!
FIRST UP: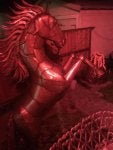 Here are my plans in a nutshell:
INVITATIONS:
I use Evite. Not sure of exact wording yet, but along these lines:
"Your presence is requested at the House of Usher (insert my actual address) for the VICTORIAN Funeral and Wake of Lucy Westenra, taken from this life too soon. The unexpected circumstances of Ms. Westenra's death (including speculations about mysterious, blood-sucking bats) have left her loved ones baffled and most fearful. Those closest to Ms. Westenra wish to warn guests attending her funeral that the killer may still be on the loose. Rumors continue to circulate about how she died including: Jack the Ripper, Count Dracula, Edgar Allan Poe, and even Sweeney Todd (the barber of Fleet Street)... and even possibly "white ghost ladies" that have been seen in the area...)" You must come prepared to fend off the killer, and of course, dressed for the somber VICTORIAN occasion.
FRONT YARD (Horse, hearse carriage, Headless Horseman, ambient lighting, fog)
That metal horse sculpture (pictured) will set the scene in the front yard. I am building a carriage hearse out of PVC and Styrofoam board - with fabrics and hopefully some architectural elements (cornices, etc) If I can find any at salvage yards/garage sales etc.
FRONT PORCH stoop:
Funeral Home Entrance/ Black fabirc draped over windows, black wreath on front door. Funeral Home vibes
UPSTAIRS WINDOW (visible from front yard/street)
Looping Atmos FX of Victorian ghost couple doing a Waltz dance
LIVING ROOM: First scene inside house....
Haunted Library - Scene setters to create an old library. Lots of boos everywhere. Candles, candelabras. Will be collecting books over next several months. In this library - I want to hang and draw attention to WARNING/ DANGER posters about Jack the Ripper, Dracula, Sweeney Todd, etc ... famous killers of that era. I also want to build an amazing fireplace facade to look really true to the period, with a mantle and candles, and lots of spiderwebs. Maybe a seance table? Maybe I will build a grandfather clock.
KITCHEN - PASSTHROUGH/LAUNDRY ROOM
This area leads from the living room into the den. I want to put a VAMPIRE ON THE LOOSE vibe in this passageway. Will probably use red lighting, lots of black fabric, and have warning signs that Dracula was recently spotted nearby. Warning signs to stay in after dark etc. Then maybe a vampire slayer kit and an actual life size vampire "trapped" behind my glass laundry room door. Like he has been "temporarily" captured.
DEN
All white. I will hang white fabric on ceiling and all four walls, using black lights for ambience. Very white, white white. This is the funeral room. and here is where Lucy Westnera will be in an open casket. Trying to emulate her wake scene from Bram Stoker's Dracula movieL BUt WHITE is the theme here. NOthing of any other color in whole scene.
BATHROOM:
Poe. Tell Tale Heart on Speaker (set to repeat all night) as told by James Earl Jones.
Poe nods and quotes everywhere. Ravens. Poe portraits.
Floorboard with a beating heart under them. Working on details of how to execute this.
BACKYARD:
Big cemetery. Using my PERFECT STORM out here, to have thunder and lightning. I may make some new tombstones this year. I might try a packing tape ghost or two. Lots of fog, white ghosts, tombstones. Maybe I will monster mud a new creation.
BACKYARD FENCE (see from the funeral scene through a sold wall of windows)
AtmosFX of Victorian gentleman removing his head.
That's as far s I have gotten.
IDEAS WELCOME!!!!