Discussion Starter
·
#1
·
This couple won favorite costume...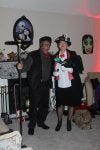 Funniest costume - They came in singing and had everyone roaring!
Folks at the party...
our party theme was NMBC. I put this tableau together to go in our family room...
I made this Oogie Boogie for photo ops...
I made a toe-pincher sleigh pulled by my skeleton horse...
Jack and his Christmas Tree. I wish I had a pic of the base - it was surrounded by a score of "evil" christmas presents - Deady Bear, scary Jack-In-The-Box, evil doll, etc...
The living room. It wasn't that red, but the colored lights do create a cool effect... I painted the pic of Jack and Sally.
Another angle of the living room...
Shot inside the "Garage of Terror"...
And one more shot inside the garage...