Discussion Starter
·
#1
·
50 FT SNAKE BUILD, PART 1



For Better images: I have a flickr "Phlog":
https://www.flickr.com/photos/he1mut/sets/72157660811552983/with/24076039921/


Materials:
Trunk: three 14 x 4.5 ft air pillows from poolsupplysuperstore.com
Skin: Spandex from spandexhouse.com and Michael's
Head: 4mil corrugated plastic sheet.
Fangs: Nov 1 Scythes from Halloween City
Eyes: plastic Christmas bulbs.
Boom support/spine : 1" PVC and pipe. Suspended with lawn trimmer line. 3/4" sprinkler tubing
Unique Fasteners: Plastic dry wall anchors
Paint: Interior auto fabric paint.

THE DECIDING MOMENT:
For a long time I was trying to figure out a way to make a large snake prop that would be store-able.
Then I saw this:



All I needed was an AWESOME Niece who could sew and was willing, and HUZZAH, I had one! Would NOT have happened otherwise.

MOCKUP/HEAD:
Sorry, no images of the ¼ scale cardboard mock-up; only the the splayed pieces next to the full sized pieces.
Marked and measured mockup at 1" horizontal intervals. Calculated 4x of measurements and applied to 4 mil sheets every 4",
The line markers nearer the middle of the head lined up with cut points to create flaps that would overlap. This would give the head it's contours – kind of like really big origami.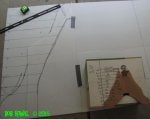 Rough assembled head. I found that the very large threaded plastic drywall anchors worked great for this. The head ended weighing less than 10 lbs.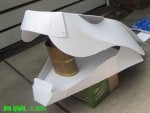 Some refining , including strengthening the lower jaw by pinching a tapered spine, similar to a boat hull: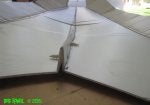 Deciding head placement: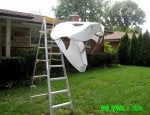 Rough positioning of fangs. The handle would come off and just screw the blades to the sheeting.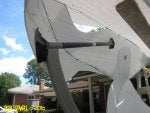 SEWING/SIZING THE FABRIC
Here's my AWESOME niece, Aja! Not sure how she did it. Just a home sewing machine and man that spandex gets unwieldy!
Only one length had been sewn seen in this picture. Clamps are holding the fabric on the other side. We ultimately deflated the pillow until it looked correct with the head and marked where the fabric needed cutting.




She also sewed in a sleeve for insert a spine or support material.
For the head she basically cut slightly larger than the shape and bordered it with elastic.

NOT SHOWN: painting inside the head – oops again.
On to Part 2: Test Assembly, Paint, Final Assembly, etc.