Discussion Starter
•
#1
•
After seeing the online prices for finials + shipping I knew my fence budget would be blown. Unable to find a suitable substitute I decided to make my own. I purchased two sheets of 3mm black craft foam and was able to make 40 finials for $2.00. I think these look great for the price, and once painted you wont be able to tell what they are made from, not to mention they are safe so no one is going to stab themselves or put out an eye.
Supplies
12x18x3mm craft foam (black if possible)
Hot glue/gun
scissors
marker or pen
Each finial will need the follow pieces cut from the foam.
These dimensions were designed to accommodate 1/2 PVC fence that is about 3' tall. Adjust accordingly.
(2) triangles - mine are 2" at the bottom and 3" tall
(1) 1.5" x 1.5" square
(1) 1"x 3" strip (I made mine 3" + 1/16)
I made a template out of thin plastic but cardboard will work just as well. At 2"x3" you should be able to get 36 finials from one sheet. Adjust the shape and size to fit your haunt, make it wavy, serrated what ever floats your boat.
1. Trace the template across the bottom one after another, then flip it over and trace a second row.
2. Cut out the triangles match in pairs then cut one of the pairs in half length wise.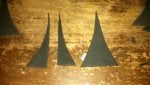 3. Glue the two halves to each side of the triangle creating a spear shape. Cut ouf a 1.5" square for each spear and glue to the bottom.
4. Cut out a 1"x3" strip and glue it to the top of the PVC
5. Glue the spear to the top of PVC/foam strip.
6. Paint it with faux rust to match your fence. (tons of tuts on this just search the site)
I haven't painted mine yet, I'm waiting for the weather to warm up so I can do this outside.
Thanks for looking
DZ