Discussion Starter
·
#1
·
Last year (2014) I was able to pretty much finish "phase 1" of our yardhaunt! A few small details didn't get done but for the most part I got the big pieces finished. We are going with a steampunk theme. There is a clocktower, storefront, boiler and crates.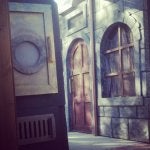 View attachment 241720
Phase 2 will aim to add another facade to help give more of an alley feel to the drivway. The third facade will be a steampunk garage that will be 3 panels and will sit next the clocktower. That will cover an extra 4 feet of the garage. The storefront facade will shift to the side of the driveway to start to create a horseshoe shape that will give the haunt the feel of an alley. Along with the extra facade we will be adding more to the center of the driveway to make a longer walkthrough. Also some steampunk oddities for display in the storefront and moving gears for the clocktower. Little things that need to get finished are the lettering on the storefront sign and painting the boiler to look rusted.
I was wondering if anyone had any ideas to make the haunt more "Steampunk ". I will be adding progress pics of the new build.
Updated 10/23/15
Wanted to post this in the lead post.