Discussion Starter
·
#1
·
Hey everyone!
I hope it's okay that I'm starting my own thread for this... anyway~
I'm super stoked to share my progress pictures with you all. I LOVE watching your haunts come together, so I figured I'd share mine as well! I plan on posting LOTS of pictures and maybe some videos starting within the next few days up until the big day!
I decided that along with it being my first year doing a walk-through on my property, I would have a concrete theme. With the newest installment of the trilogy recently released, I thought what better way to spend Halloween than creating my own version of the world from
INSIDIOUS
(which happens to be one of my favorite horror movies of all time)!
As always, I am super duper open to opinions or criticism.
I plan on having guests enter through the infamous "red door" as they descend deep into the 'Further'. From there, the poor TOTs will go through a hospital scene, a dream tunnel trail (lots of strobes, blue lights, fog, and clear plastic drop cloths), a haunted garden, they'll walk through the old barn on my property, and will exit. I, of course, have recruited many friends and parent's friends to serve as my actors. I have also created my own little backstory inspired by the films that I will share at a later time.
Here are some random photos of my progress! I promise they will become more cohesive as time goes on. I don't have too much to show for myself at this point.
One of my characters wigs. She will be a creepy vintage nurse who will "check in" our guests (I work as a wig supervisor for Broadway shows, so I have access to some very nice quality wigs!):
The entrance so far: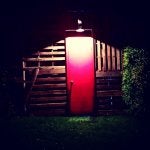 The pallets will be covered in creepy children's writing and drawings on pieces of paper, created in the likeness of those in the film.
The prop head for my Bride in Black (Thanks to DEATH STUDIOS for the AMAZING mask!):
He will be attached to a body form, and attached to a pneumatic mechanism I constructed with my father, made in the likeness of the large Flying Witch prop that's sold on websites like Haunted Props.
Many more updates and pictures to come as I make progress!
Thanks for looking. I hope that you guys enjoy my idea!