Discussion Starter
•
#1
•
Starting a link to showcase our event. I already posted the first two new props for this year earlier. You can see the mummy and the first candelabra photos HERE
Starting working on Frank this weekend, photos to come a little later.. ended up tearing him all back apart and will start again later.
Built the second candelabra except for the very top, need to find a suitable chandelier this week to finish it up. and then get it painted black.
Used the leftover lamp pieces and parts and a handful of $1 skeletons from the Dollar Tree, a glue gun some e3600 glue and black spaypaint to build the Costume Prize trophies. I am still in the process of how to actually label them. Will post a final product when done.
Before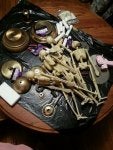 After:
Categories This Year Are:
Best costume (no photo)
Scariest-complete with neck bolts
Funniest:
Most Original
Best Couple: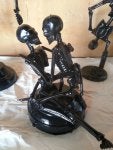 Sexiest-yes it's a pole dancer!
Starting to get excited for it all to come together. Taking a break to go buy candles, more glue, more duct tape and MORE black paint!
Because this only lasted a few hours... Haunt on my friends.