Discussion Starter
·
#1
·
Hi everyone! This years spooktacula was a great success with much fun had by many! We had 100 friends join us for a night of dancing, drinking, eating and bonfire. Here are a few pictures of the entrance...we use foam walls and lift the garage door...this is how to enter the party!
Next, you walk into the garage were the DJ set up is, complete with fog machine and light show! Lots of dancing going on here!
From the garage you enter the kitchen area were the punch is, mixers, etc. We block the kitchen out, for a staging area for my bff Lisa who serves food all night long for us! PVC room divider keeps the kitchen party "closed" My daughter was "thing 1"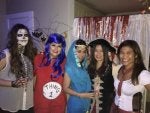 Next you enter the living area...we clear out all but the couch and stage it for food and a place to sit inside! ( I do cover my couch with a few plastic table cloths, and then fabric to protect the fabric from spills! This year we set up our coffin inside like a chapel at a cemetary! Here I am as the witch and DH was a funeral director ( my costume didn't match the theme, but I didn't care!) Here is a picture of my son!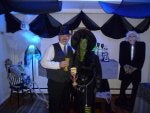 A few more pics from inside...then leading to the hall where the bathroom is!
Go thru the black curtain of the livingroom and enter the hallway to the bathroom and bedrooms....we block off the hallway as we do not want people roaming any further lol! This year we blackened the floor and walls, brought inside small saplings inside, and hung a creepy old guy with a strobe...the effect was crazy good....the strobe makes everyone feel weird, and the anticipation of going thru the curtain....people loved it! The entrance to the bathroom is here...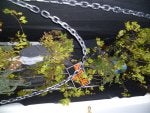 Once you entered the bathroom, the walls were all blackened out....I used landscaper fabric ( not plastic)...worked like a charm...( no shine) and I can re-use! I set this up as a gravediggers "tool shed"...
the tub housed a table full of heads, severed limbs, rats, birds...strobe light...the only light was noise activated of flickering/ shorting light bulbs that I found at walgreens this year!